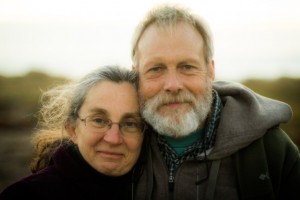 Tom grew up on a farm in northeast Nebraska and has lived on this farmstead for over three decades. He has been known in the area for his vegetables and plants sold at farmers markets and for his prior landscaping business, Lund and Field Gardens.
His focus now is on the propagation of plants that are native to the prairies, savannas, and wetlands of this region. He has a special interest in Aronia melanocarpa, a shrub whose berries are exceptionally high in antioxidants.
Shami grew up on a farm in eastern Iowa and has also lived in California and upper New York. She joined Tom on the farm in the fall of 2013 and shares his interest in local food production and prairie/savanna ecosystems.